From musical concerts to work meetings, virtual spaces are becoming the go-to option for hosting events. From zero travel costs to unlimited seating capacity, there are so many reasons why hosting events in the metaverse is becoming more popular than before.
The COVID-19 pandemic caught us all by surprise. Many planned events had to be canceled or switched to an online format. Now that we are two years past the pandemic, technologies for hosting online events have developed to offer a vast variety of opportunities for creating truly immersive and engaging experiences.
If you want to host a virtual event in the metaverse, this guide will give you all you need to know to make your event a success. So, let's dive into our guide to hosting an event in the metaverse.
What is the Metaverse?
The Metaverse consists of three-dimensional worlds in which real-world scenarios are replicated and can be experienced in an immersive manner. This offers a seamless experience for users of the Metaverse.
These virtual spaces have so many applications in various sectors. For example, brands can use the Metaverse to create an immersive experience and engage with their potential customers.
The Metaverse has the power to make our online experiences more interactive and attractive. That is why strong signals suggest that the Metaverse is becoming the next major force.
What are metaverse events?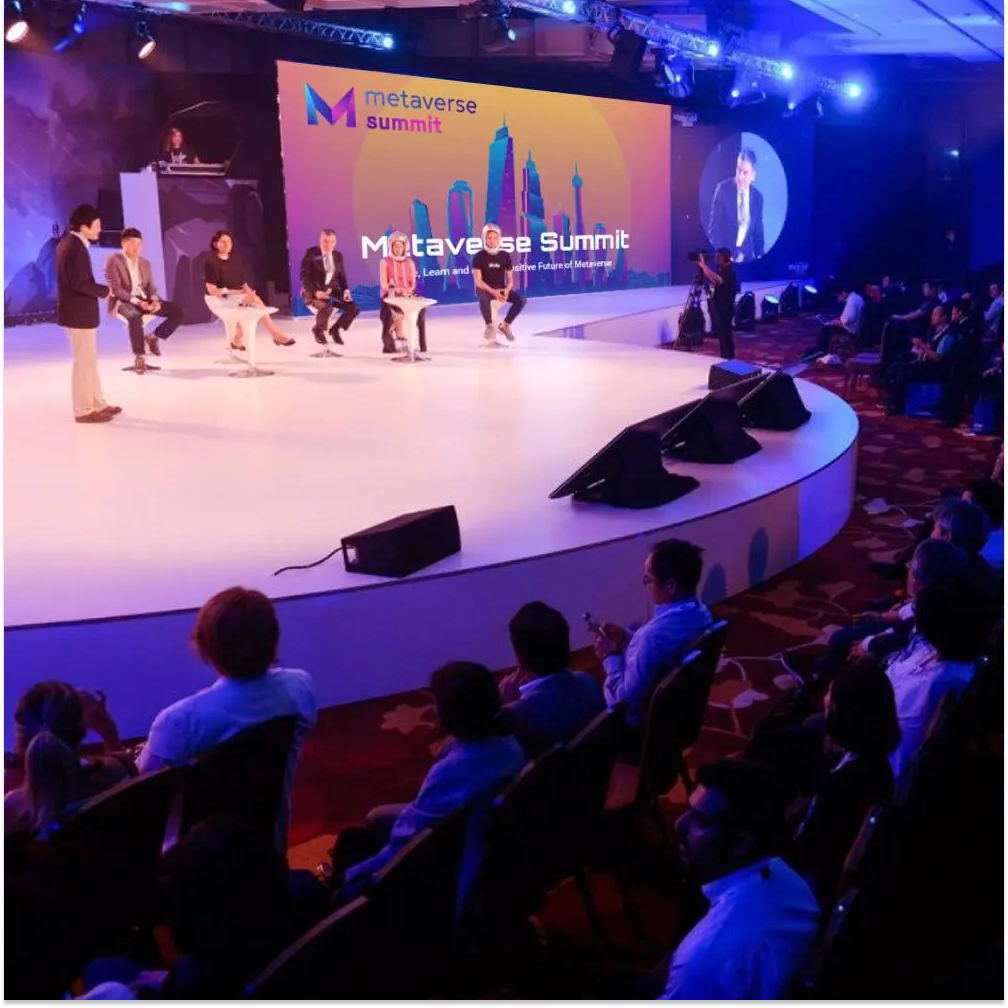 As we mentioned above, the Metaverse consists of digital environments allowing users to be with one another in a virtual space. Metaverse events are virtual events that take place within these virtual worlds and in a dynamic and interactive way.
Hosting events in the Metaverse would also include steps such as choosing the right venue to attract attendees, just the same as in the real world.
What makes a metaverse event different from a regular online conference is features such as VR (Virtual Reality) and AR (Augmented Reality). These technologies create experiences that look and feel like the real world but are actually virtual.
In a Metaverse, events can be anything from live concerts to conferences and product launches. For example, a music festival in the Metaverse can feature virtual stages with live bands performing for an audience of avatars. Or a conference might take place in a virtual convention center with exhibitors and keynote speakers.
What are the benefits of hosting events in the Metaverse?
One of the most important benefits of hosting an event in the Metaverse is the ability to reach a global audience. Attendees can participate in virtual events from anywhere in the world, so there would be no extra cost for traveling to the venue.
In addition, it would be much cheaper to host an event in the Metaverse than in the real world. Organizers don't have to book gigantic event venues for a great number of seats or hire a group of staff to cater the events. In return, the price of the tickets would become cheaper for the attendees.
Moreover, Metaverse events are highly measurable. This means hosts can easily find out which sessions are more popular for a specific event, how many people are likely to attend, where those attendees live, how they would pay for tickets, and more. A detailed specification of the invited guests can be used in building an organization's strategy.
Finally, virtual events held in the Metaverse typically have a much lower carbon footprint compared to traditional events, as they don't require any travel or physical materials.
Steps to hosting events in the Metaverse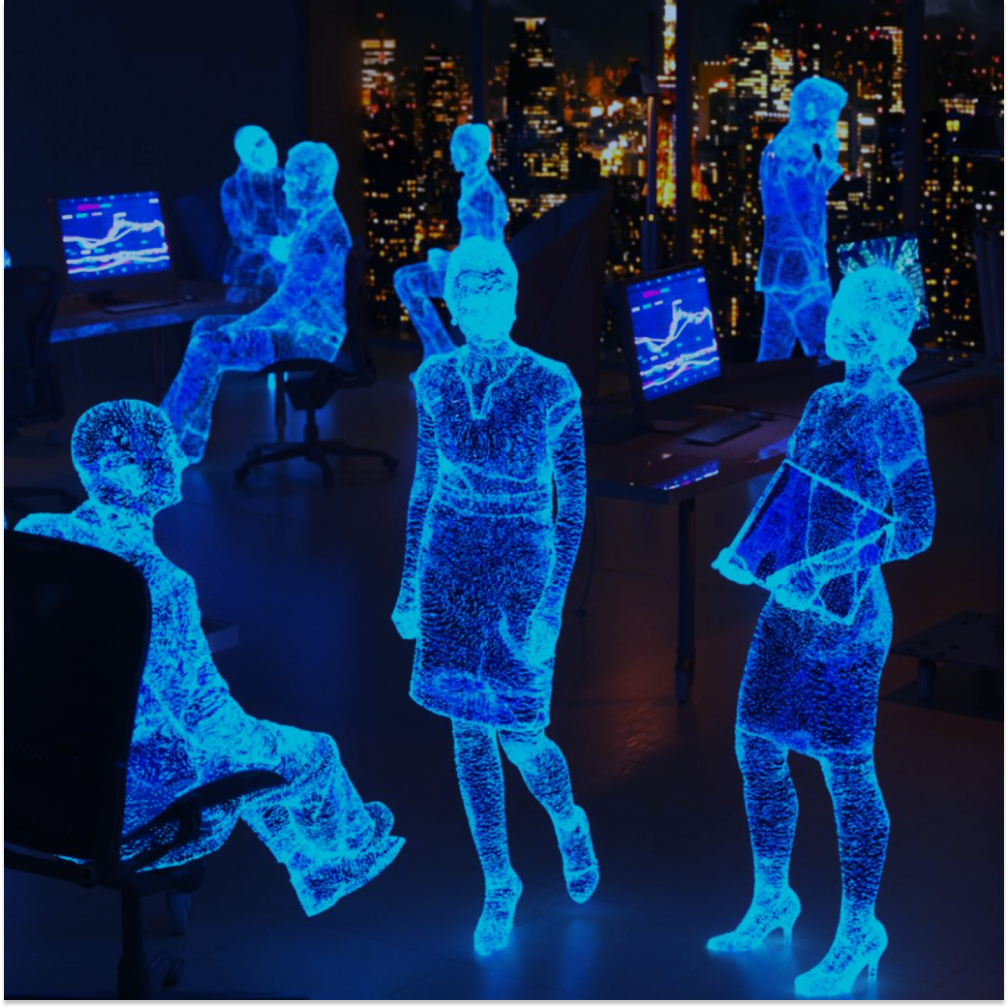 Launching a virtual event is a great way to build a worldwide audience. Whether you have experience in holding online events or it is your first event, the Metaverse has a lot to offer in order to make the process easier for you.
When planning a Metaverse event, these are the important steps you need to take.
1. Define your event goals
The basics of planning a virtual event are the same as an in-person event. You'll need to decide on the date and time, as well as the format and structure of your event. Will your sessions be hosted live or pre-recorded? What kind of activities will you include? Is your audience familiar with the platform you've selected? What tools can you use to further engage with your audience?
These are only a few of the questions before you start hosting events in the Metaverse.
In addition, knowing who you want to reach is crucial for developing an effective marketing strategy and creating content that will resonate with your audience.
2. Choose a platform for hosting events in the Metaverse
The next step for planning a Metaverse event is choosing the right platform for the venue. Two important options to consider in this phase include:
Building an event venue from scratch – you can choose to buy land in the existing metaverse platforms such as Stage Meta to build an event venue to your own liking. In this case, you would have a lot of customization options.
Choosing a metaverse event platform – There are several already-existing event platforms available for hosting metaverse events. You should choose a platform that aligns with the goals of your event and is accessible to your target audience.
3. Create engaging content for the event
Whether you're hosting a virtual concert, a game tournament, or a work conference, the content of your event is crucial to its success. The events should be engaging, lively, and entertaining. The objective of a virtual event is to make the audience attend the occasion and have an enjoyable experience. So, you should find ways to improve social gatherings.
keeping attendees engaged is the biggest challenge of virtual events. But with the Metaverse, you have so many options and features at your disposal that doing so wouldn't be that difficult.
4. Promote your Metaverse event
Once your event is fully planned and ready, you are ready to hold it; it's important to let people know about it. Social media, email, and other marketing channels can drive attendance. You can prepare banners, email templates, speaker photo frames, and hashtags for social networks.
5. Host and manage the event
Hosting a successful Metaverse event requires a lot of planning, coordination, and communication. It can be achieved if you make sure to have a team to manage the event, troubleshoot technical issues, and keep things running smoothly.
In addition, providing clear, competent support is one of the main requirements of a Metaverse event. Make sure your support team responds as quickly as possible so that every user will not be distracted from the event for a long time. Keeping these points into consideration while hosting events in the Metaverse ensures a high level of professionalism.