Disrupting the disruption: How Stage Meta's Teleport Plaque Addresses will take over the Metaverse.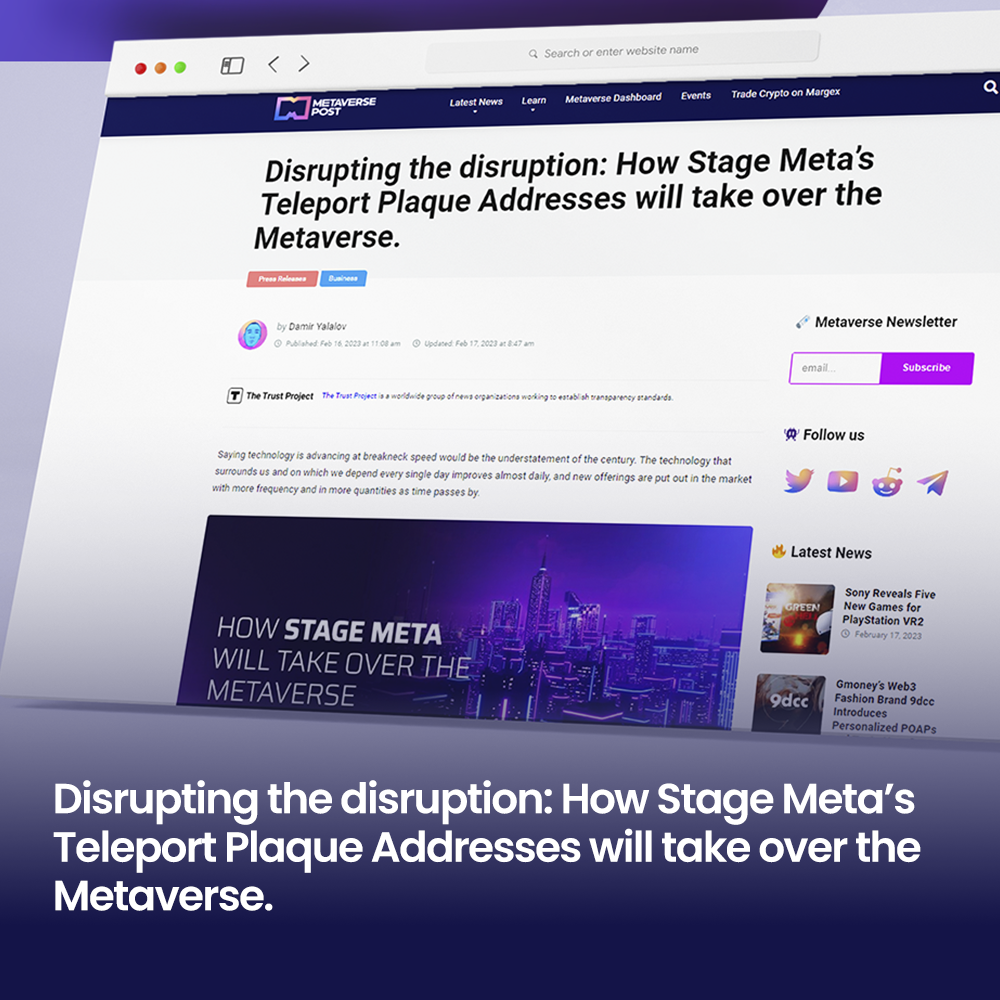 Saying technology is advancing at breakneck speed would be the understatement of the century. The technology that surrounds us and on which we depend every single day improves almost daily, and new offerings are put out in the market with more frequency and in more quantities as time passes by.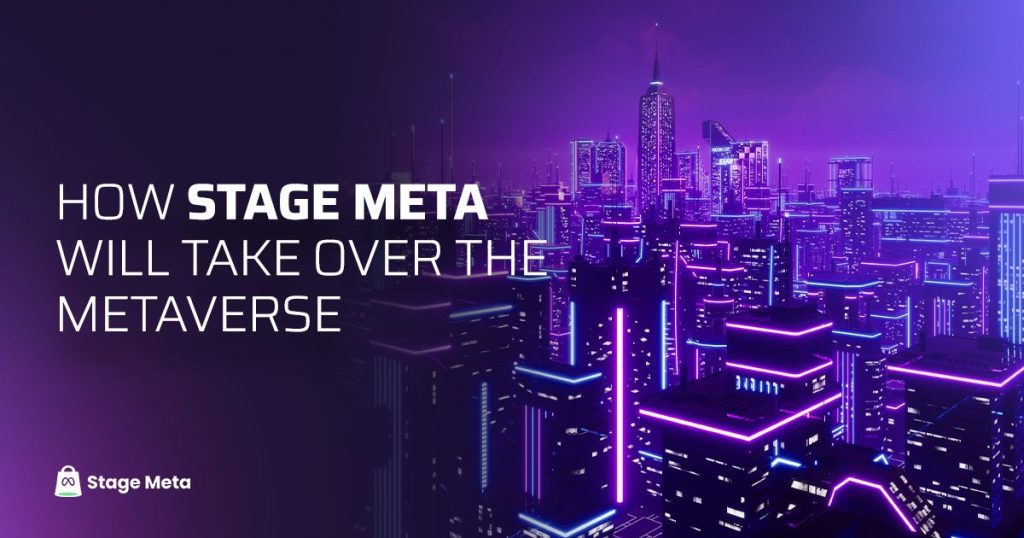 Every now and then, a piece of technology upsets how things work and changes things forever. This is called disruptive technology, and the latest to take the world by storm is the Metaverse, the 21st-century version of the decades-old Virtual Reality ideas.
In and on themselves, Virtual Realities as a concept are nothing new, and attempts at making it something that can not only be executed but widely used are abundant. But the metaverse is an idea that goes far beyond VR; it is an entirely new way to use the internet and interact with each other and the world itself. The Metaverse seeks to be an immersive virtual experience that can be accessed with or without a VR set, making it more popular than previous VR attempts, to the point that it is considered the future of the internet.
The problem is that while a fully functional and accessible Metaverse is indeed the future of the internet and will change the way we interact with the world around us, each other, entertainment, shopping and other similar things, it is not the present of the internet and most of the current metaverse offerings still lack in several important areas.
One such area is the navigation and interactivity of the different virtual worlds. We like to think of the Metaverse as one vast virtual world where all kinds of businesses and other social interactions occur, but it really is not like that.
The Metaverse is composed of several different virtual worlds that don't interact with each other and cannot connect into a vaster world. This is due to how the different pieces of these virtual worlds -often called "Lands"- are named and how they obtain their addresses, which allow the user to teleport into them and interact with the environment.
The problem comes from the fact that these Metaverses use the coordinates of the land in the bigger map as an address for people to visit them, and inevitably, this will lead to repeated addresses, as the same coordinates can be found on all those different virtual worlds, but each set would represent a different land.
Confusing, isn't it? Basically, two lands, each from a different Metaverse, can have the same coordinates and, so, have the same address. There is currently no such thing as a domain or name given to each land to differentiate it from others when the user is exploring.
This is where Stage Meta's brilliant Teleport Plaque Addresses come into play. This bleeding-edge technology will disrupt the disruption itself and help create a unified Metaverse for future users to interact with.
The brilliance of the Teleport Plaque Address is its six-character code, three letters and three numbers, which can be assigned to Lands, making the code the Land's address -or as we would call it in the current internet, the domain name of the Metaverse land in question.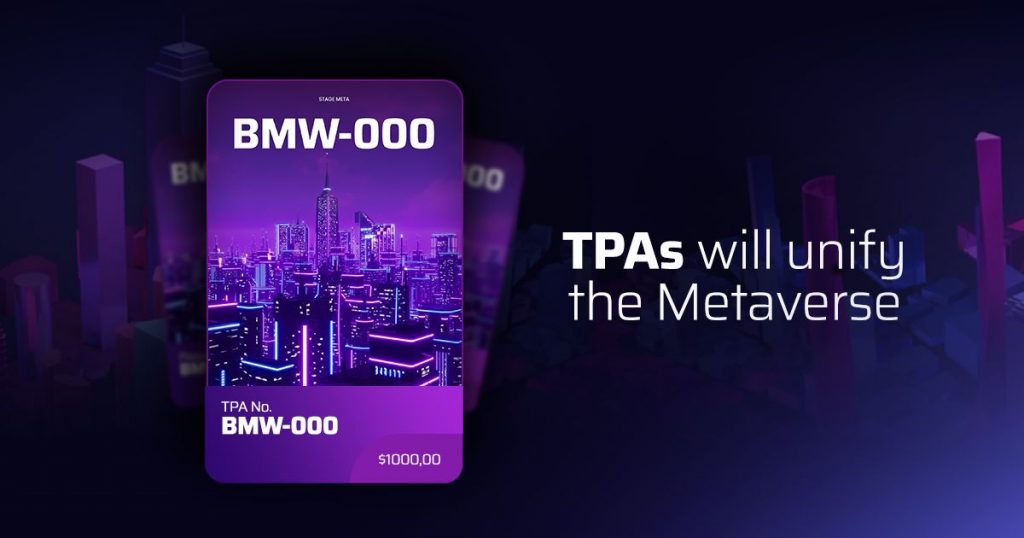 The six-character code ensures the potential existence of 17,576,000 completely unique Teleport Plaque Addresses, which guarantees no other business or user will have the same address any time soon.
But Teleport Plaque Addresses aren't just codes for the lands in a Metaverse. They are also an amazing business opportunity.
You see, when you own a Teleport Plaque Address, you can assign it to a Land in Stage Meta's Meta Worlds and migrate your business to the Metaverse in the future. But you can also keep the plaque and sell it for a higher price later. Or you can assign it to a Land and then sell or rent the Land and the plaque for a much higher price. You could also trade them or get your personal network to buy them and make the most out of Stage Meta's Meta Energy Orbits.
The possible ways you can do very profitable business with Teleport Plaque Addresses are many and varied, and you can get ahead of the curve as the Metaverse develops and becomes the present of the internet.
Acquiring Stage Meta's Teleport Plaque Addresses -or TPAs- is very easy. While they do have a presence in all Ethereum Marketplaces, buying the TPA from Stage Meta's own website is the best option.
When you purchase your plaques on Stage Meta's site, you can have any plaque you want with their ingenious Automatic Minter Engine, which will mint any plaque for you instantaneously, provided the code is available.
TPAs are Smart Contracts in the Ethereum blockchain, which makes all transactions transparent. However, you can still choose to purchase your plaque from the Ethereum Marketplaces, but keep in mind that the options for a code will be limited to the available plaques in them.
Stage Meta is creating its own Metaverse, like other companies. Theirs will start with four Meta Words, all virtual renditions of real deluxe locations in the real world. Keep in mind that you can assign your plaque to a Land, but you won't be able to actually use it for the time being.
In the long term, Stage Meta aims to create over 100 different Meta worlds to accommodate the immense amount of Teleport Plaque Addresses that are expected to be minted.
Lastly, Stage Meta has made another excellent plan with their open API policy.
The long-term plan is to unify all of the current virtual worlds into one Metaverse as we imagine it when we heard the word, and for that, they expect other Virtual Worlds and Metaverse companies to take advantage of Stage Meta's open API to use Teleport Plaque Addresses in their own spaces, effectively turning the Teleport Plaque Addresses the one and only addressing protocol of the Metaverse as a whole.
A very ingenious idea -with an accompanying ecosystem- by a young but very intelligent company can change the way we use the internet for good, and as they develop more options and tools, investing in TPAs is the best option for those who want to invest in the Metaverse but don't know where to start. Getting ahead of the curve and buying now, while availability is high and prices are low, is the smartest decision, as waiting will only result in fewer available codes and more expensive plaques. Currently, plaques have a floor price of $1000, but the last ones are expected to cost over $100,000.
The internet is changing. It has been disrupted, and it won't be the same again. Just like Social Media transformed it into Web 2.0, the Metaverse ideas have transformed it into Web3, and there is no going back. Planning to migrate your business to the Metaverse, or dealing in things related to it, is sure to be a solid business strategy which will surely have great returns sooner than you think.
Learn more about Stage Meta's Teleport Plaque Addresses on their website, and join their SubReddit -r/Stagemeta_TPA- and their Discord Server to stay up to date or ask any questions you may have.
Disclaimer: Metaverse Post originally published this article on February 16th, 2023.