How Do NFT Marketplaces Make Money? 6 Key Revenue Streams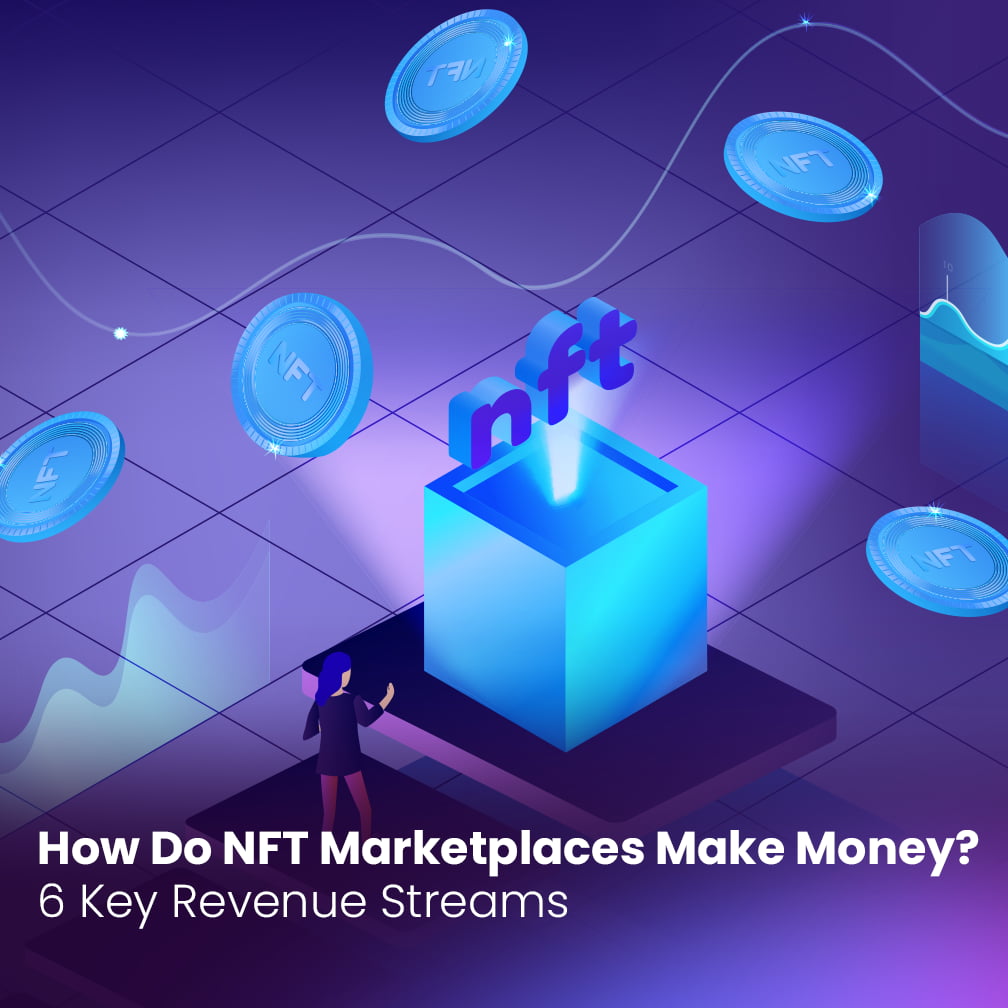 NFT marketplaces like OpenSea and Rarible exploded seemingly overnight, reaching billions in sales volume in the crypto collectibles craze of 2021. But how do these new digital art and collectibles platforms actually make money from all the hype?This guide will outline the 6 core revenue models for NFT marketplaces.
Grasping these money-making mechanics provides insight into the economics fueling the growth of this transformative new sector of the internet economy. Let's dive in!
1. Transaction Fees
The most straightforward way marketplaces like OpenSea generate revenue is by charging transaction fees on NFT buys and sells.
These fees typically range from 2-5% of the total transacted value. OpenSea charges 2.5% on each completed sale, so $250K in volume = $6,250 in fees. Platforms only earn if trades occur, incentivizing liquidity.
Some sites like Rarible and Zora have experimented with foregoing transaction fees to drive volume. But fees remain the primary revenue source for most by far.
2. Gas Fees
In addition to transaction fees, platforms focused on Ethereum like OpenSea also earn revenue from "gas" – the fee required to process transactions on the Ethereum blockchain.
OpenSea keeps the majority of this gas fee charged to users rather than passing it all to miners. These earnings can be significant thanks to Ethereum's high gas costs and network activity.
As competitors expand multi-chain support and Ethereum addresses scalability, gas may decline as a revenue source. But for now it's a windfall, sometimes exceeding transaction fees.
3. Creator Royalties
NFT creators usually earn ongoing royalties from secondary sales (5-10% typically). Marketplaces like OpenSea charge fees on this royalty portion as well, typically up to 10%.
So if a creator earns 8% royalties on a $100K resale, they would receive $8,000. OpenSea then takes 10% of that royalty or $800. These royalty fees generate incremental revenue from popular items.
4. Retail Partnership Revenue
Large marketplaces like OpenSea strike exclusive partnerships with hot NFT collections to feature the drops prominently. These promotional placements drive sales from which they earn fees.
Rarible recently partnered with Adidas to offer digital apparel. These selectively curated retail collaborations also improve marketplaces' cool factor and credibility for collectors.
5. Advertising and Sponsorships
As marketplaces grow in size, they can generate ad revenue like traditional platforms. Promoted collections, banner ads, sponsored placements, etc. OpenSea is expanding its advertising offerings to brands.
Related revenue comes from exclusive product launches called "drops" like Rarible's collaboration with the NFL Players Association to offer player NFTs.
6. Value-Added Services
Additional services allow marketplaces to generate revenue while increasing stickiness. For example, OpenSea charges for secure wallet signature verification and eBay-style buyer guarantees.
Optional features like promoted listings, custom stores for creators, and data analytics tools provide add-on income from premium subscribers.
Two-Sided Marketplace Dynamics
NFT platforms exhibit typical network effects – the value rises as usage and inventory volume increases on both the buyer and seller side.
More buyers attract more sellers. More sellers create a richer catalogue pulling in more buyers. As both grow, the platforms extract increasing fees via the revenue models above.
However, to initially kickstart these network effects, NFT marketplaces focused first on builders and creators as the supplier side. The buyers followed.
Key Takeaways on Metaverse Economics
Some core economic principles explain the profitability potential of NFT marketplaces:
They enjoy commission-based models with negligible marginal costs to scale.
Low inventory risk (just takes fees, doesn't own goods).
Benefit from both creator and collector network effects.
Early mover advantage is significant until commoditization kicks in.
However, sustainability relies on providing real value beyond speculation, minimizing fraud, and steady improvements.
What's Next for Business Models?
NFT Marketplaces aim to make money increasing revenue while decreasing reliance on speculative trading:
Layering on services like insurance, financing, and data analytics.
Focusing on exclusive institutional partnerships and premium clients.
Supporting wide-ranging virtual experiences that go beyond JPEGs
Facilitating real-world events, meetups, and networking to strengthen communities.
Providing tools for all users to become creators themselves.
Expanding to multi-chain, mobile-first, and simple fiat on-ramps.
Increased diversification, utility, and mainstream accessibility will be key to long-term revenue durability.
Final Thoughts on NFT Platforms Generate Revenue
NFT marketplaces sit at the intersection of digital community, creator tools, and blockchain technology. Their eventual mainstream viability relies on adding utility and safeguards beyond just speculative trading.
Current giants like OpenSea will need to solve problems like discoverability and fraud risks. Nimble startups have opportunities in specificity, exclusivity, and social experiences.
No dominant design has emerged just yet. Which platforms can evolve business models to balance value, accessibility, and sustainability? The next pivotal industry chapters remain unwritten.
But for those inspired to build solutions as the technology matures, the possibilities feel endless. It comes down to imagination and empathy. The impact begins there.
Estimated reading time: 4 minutes