Welcome to Stage Meta's Metaverse Maps!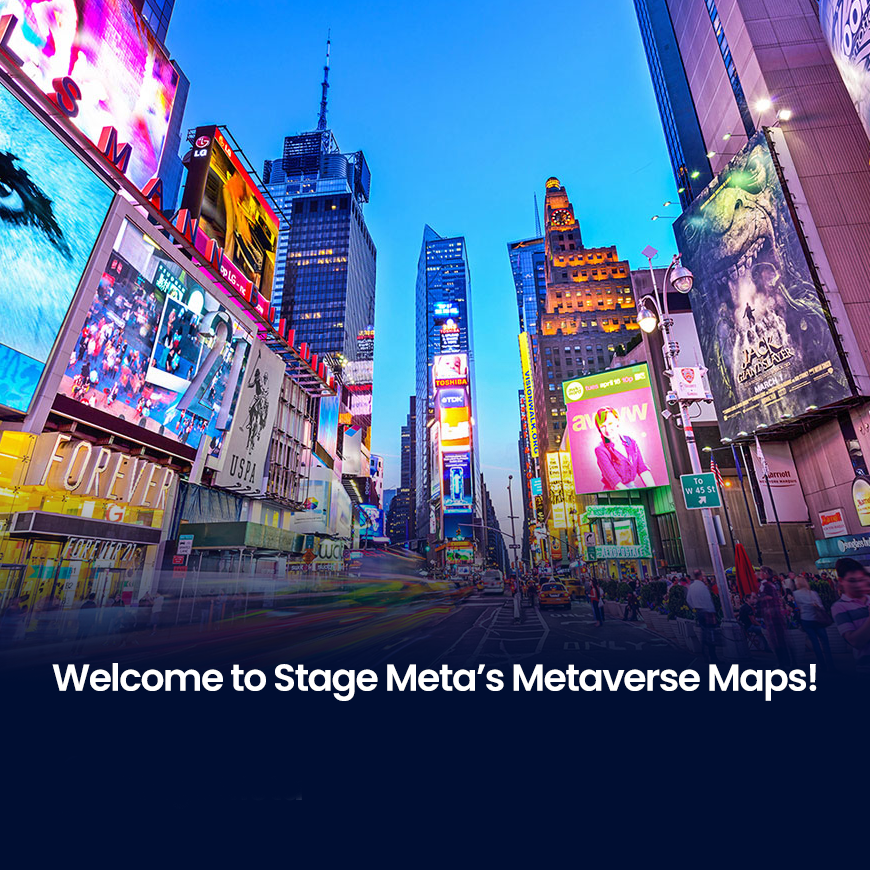 We are happy to announce that our Metaverse Maps are now ready to purchase and assign!
Stage Meta has four lands where you can assign your NFT plaque: Time Squares, Dundas Square, Beverly Hills, and Avenida Presidente Masaryk. You can view our maps in our webpage, so you can choose the best one for your business.
What are the Stage Meta Maps?

The Metaverse Maps are the available virtual land Stage Meta has created in the Metaverse for purposes of online retail in an immersive world that gives customers the Web3 experience through virtual reality.
In our Metaverse Maps, you can open your store and create a brand new and interesting experience for your customers, guaranteed to increase your sales and increase your engagement.
You can see our Metaverse Maps in our website.
How do I migrate to Stage Meta's Metaverse Maps?
It is very simple!
All you need to do is purchase one of our unique NFT Teleport Plaque Addresses and assign it to the space you prefer from the available Metaverse Maps.
To purchase our plaques, go to the NFT plaques section on our website or our collection on OpenSea and pick the one that speaks to you or matches the needs of your business.
In order to purchase the plaque on our site, you will need to connect your Metamask wallet to our website.
Connecting the Metamask wallet.
You will receive a prompt to connect your Metamask wallet when you enter our website. Simply click "connect", then "Sign" and then follow the instructions on the screen. In just a few clicks you'll be ready to purchase your NFT plaque.
Choosing a plaque
Enter the section "NFT plaques" at the top of the site and you will be taken to our NFT Teleport Plaque Address marketplace.
You can browse the plaques until you find one you like. Click on the "Buy" button that will appear when you hover over the plaque you like.
You will be taken to the plaques details page. Click on "Buy Plaque NFT" and you will be taken to the purchase site.
Add the plaque to your cart and then proceed to checkout. Follow the instructions on the screen to complete the purchase.
Assigning a plaque to a location on the Metaverse Maps.
Once you have purchased your NFT Plaque, go to the Maps section on the website. Select the Land you want your business to be on and click on it.
You will be presented with a map that shows all the available spaces for that Map. Click on a space you like and click on "assign".
It's easy and comfortable to create your business space in Stage Meta's Metaverse Maps. You can also trade the NFT Plaques as you would any other NFT.
If you still have questions, don't hesitate to check out our FAQ section or get in touch with us through our social media or help section.