Unlocking The Full Distribution Pool: A Comprehensive Guide
The Full Distribution Pool is an advanced-level rewards mechanism for TPA (Teleport Plaque Address) owners who aim to optimize their benefits. This comprehensive guide will unpack the features, benefits, and operational mechanics of the Full Distribution Pool.
What is the Full Distribution Pool?
The Full Distribution Pool is a weekly benefits initiative designed exclusively for TPA Owners. Consider it an enhanced version of the Mini Distribution Pool, offering escalated rewards exclusive to TPA Owners.
How Does it Work?
Sharing Your TPA Wallet Link
Disseminate your unique TPA Wallet link to garner new sign-ups.
Each sign-up via your TPA Wallet link can rake in up to $10 per week for every TPA you own.
The more TPAs you have, the greater the multiplication effect on your earnings.
Social Media Engagement
Share the three pinned posts in your Instagram Stories & mention @stagetpa.
Mention at least five of your followers in the comments section and encourage them to follow us.
This will add another $10 to your weekly earnings.
Bonus Earnings
Accumulate PINGS on your TPA's Metadata to elevate your benefits.
First PING: This will double your ALPHA Energy, translating to approximately $500 in benefits.
Fifth PING: Successfully completing this will triple your ALPHA Energy, amounting to around $750.
Why Should You Participate?
Greater Rewards
Owning more TPAs directly results in earning more rewards.
Meta Energy
Accumulate PINGs to enhance your Meta Energy rewards. Starting with Double ALPHA at the first PING, progressing to Triple ALPHA at the fifth PING, and culminating in OMEGA MAX at 1,000 PINGs, you have the opportunity to significantly amplify your benefits.
Network Leverage
Utilize your existing social connections to increase the number of sign-ups via your TPA Wallet link, thus maximizing your earnings.
FAQ
What differentiates the Full Distribution Pool from the Mini Distribution Pool?
The Full Distribution Pool is exclusively available to TPA Owners and offers 4x the weekly rewards as well as increased earnings through PINGs and Meta Energy.
How do I get my unique TPA Wallet Link?
Your TPA Wallet Link can be found in your user dashboard, from where it can be easily copied and shared.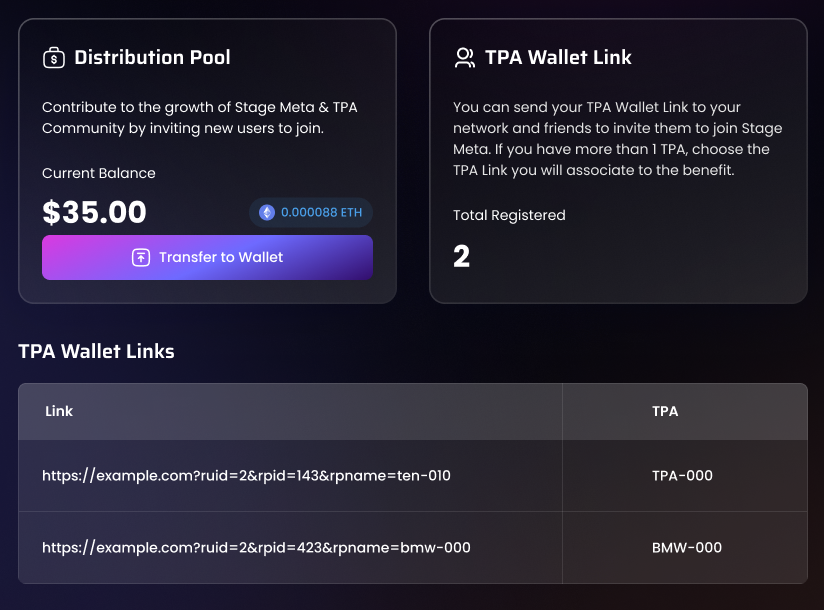 What is Meta Energy and how does it work?
Meta Energy is an exclusive system that further amplifies your earning potential based on your consistent engagement and participation.
What are PINGs?
A PING represents the metadata of any TPA. TPAs release Meta Energy when pinged, and those with more PINGs can release more Alpha Energy.
Conclusion
The Full Distribution Pool represents the next phase for scaling your active participation and benefits in the TPA ecosystem. It's an indispensable feature for anyone committed to maximizing the benefits of TPA ownership, offering avenues for increased financial gains and Meta Energy accrual.
Estimated reading time: 3 minutes