Understanding the Mini Distribution Pool: A Beginner's Guide
The Mini Distribution Pool is an excellent entry point for newcomers to the Stage Meta Teleport Plaque Address ecosystem. Aimed at offering an entry-level incentive scheme, it enables you to start accruing rewards even if you don't yet have a TPA. Interested in the nitty-gritty? Let's get started.
What is the Mini Distribution Pool?
The Mini Distribution Pool serves as a weekly rewards mechanism, tailor-made for users who are not yet TPA owners but wish to be part of this thriving community. This pool provides multiple avenues for you to earn some extra income, serving as a steppingstone to TPA ownership.
Obtaining a TPA and entering the Full Distribution Pool magnifies these benefits 4 times.
How Does it Work?
Follow this steps to access your TPA Wallet Link From your Account Profile.
Sharing Your TPA Link
Log in to your Stage Meta Account.
On the left side of the menu, go to "Distribution Pool".
In the box marked "TPA Wallet Link", copy the Link and send it to your network.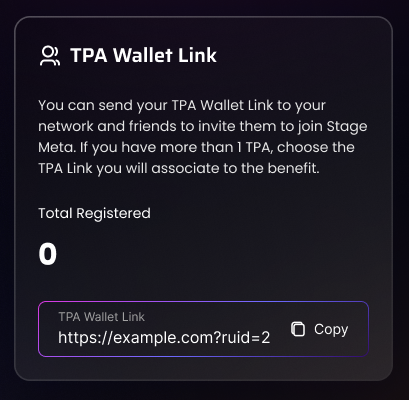 Share your unique TPA link with your social circle.
Secure three sign-ups via your link.
Earn up to $6 per week.
Social Media Engagement
Share three posts and use the tag @stagetpa.
Mention and persuade at least five of your followers to follow us on social media.
Bag an extra $4 per week.
Why Join the Mini Distribution Pool?
The Mini Distribution Pool isn't just for those sitting on the fence about TPA ownership; it's also for those who want to understand what the hype is all about—without making an immediate financial commitment. The pool allows you to:
Engage: With the community without the immediate financial commitment of a TPA.
Learn: Understand the TPA economic model in a risk-free environment.
Earn: Accumulate rewards that may eventually be used towards owning a TPA.
FAQ
Do I need to own a TPA to join the Mini Distribution Pool?
No, you don't need to own a TPA to participate in the Mini Distribution Pool. It is specifically designed for those registered users who don't yet own a TPA but are interested in the ecosystem.
How do I share my TPA Link?
Your unique TPA link will be provided within your account dashboard. Simply copy it and share it through your social channels or direct messages.
Is there a limit to how much I can earn through the Mini Distribution Pool?
Currently, you can earn up to $6 per week through link sharing and an additional $4 through social media engagement, totaling $10 weekly.
Can I transition to the Full Distribution Pool later?
Absolutely! Once you become a TPA owner, you'll be eligible to join the Full Distribution Pool, which offers 4x the benefits.
Conclusion
The Mini Distribution Pool serves as an educational and financially rewarding introduction to the world of TPAs. If you are contemplating becoming a TPA owner, this pool offers a golden opportunity to get a feel for the ecosystem while earning weekly rewards.
Estimated reading time: 3 minutes